Business-Themed Cards
Texas Bank is on the leading edge of innovative products and services for customers throughout the East Texas area. We currently offer debit cards proudly supporting our community and local school districts.
Now Texas Bank would like to partner with our business customers to develop Texas Bank Debit cards supporting your company.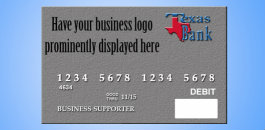 Summary

Same great features as Business Debit Card with Rewards:

Access checking balance anytime

Free with any Texas Bank checking account

Get cash at any ATM

Make purchases in stores or online

Earn UChoose rewards with every purchase

Instant issue cards available

Easily replaced if lost or stolen

Safer than cash

More widely accepted than checks

Verified by Visa available




We offer Instant Issue Debit Cards. What that means to you is that as a customer you do not have to wait 2-3 weeks to get a Debit Card. You can simply visit one of our 7 convenient locations throughout East Texas and we can print you a card on the spot in a matter of minutes and it will be active the following business day.




If you choose to participate in this service, we will work with you to design a Texas Bank Debit Card with your unique company logo. Please allow 1 - 2 business days after our design team receives your company logo for your Debit Card to go into production. Once the design phase is completed, the card would be available for issuance at any of our 7 convenient locations. Just think, every time you use a Texas Bank Debit Card with your unique company logo, you could be portrayed as an industry leader.




Apply Now to start participating in this innovative service exclusive to Texas Bank and our business customers.