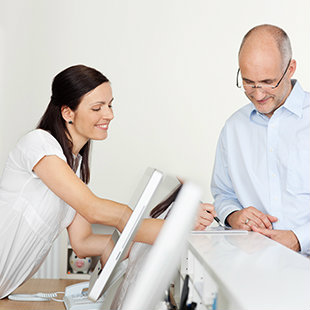 At Texas Bank, banking doesn't just stop at accounts and loans. We offer our hardworking customers a wide variety of supplemental services to add ease to their banking lives — online, by phone, in-branch, and beyond.
If you're looking for something specific and it isn't found here or elsewhere on the site, please, let us know! We're always here to make sure banking is convenient for you.
Wire Transfers
Move money across county, state, country, or even world with ease. We offer our customers both domestic and international wire transfer capabilities. Contact us for details.
Safe Deposit Boxes
Enjoy greater peace of mind by adding an extra layer of protection to your most valuable possessions. Stop by any Texas Bank branch to get details about safe deposit box rental.
Contents of Safe Deposit Boxes are not insured or guaranteed by the bank, the FDIC, or by any other government agency.
Notary Public Services
Free for Texas Bank customers. Call your local branch ahead of time to confirm that a certified notary is available.
Gift Cards
With a Visa® Gift Card, you get plenty of perks, such as the security of not carrying cash. Use it for travel or as a tool to teach kids the value of a dollar. Contact us for details.
Cash Advances
If you ever need extra cash in a pinch, pay your local Texas Bank a visit. We provide cash advances for a low fee — so you can meet your needs, as soon as you need them.
Money Orders
We issue money orders for up to $1,000. Money orders are available at every Texas Bank location for a flat fee of $2 each.
Cashier's Checks
Cashier's checks are available to Texas Bank customers for a flat $5 fee.