Buying the things your business needs is easier than ever. Use this free Visa® debit card to make purchases online and in-store or to get cash at any ATM across the country.
And with the Extra Awards feature, you can earn points redeemable toward cash, airfare, merchandise, and more with every credit purchase — so you can cut costs as you restock inventory. Extra resources, increased efficiency — one convenient piece of plastic.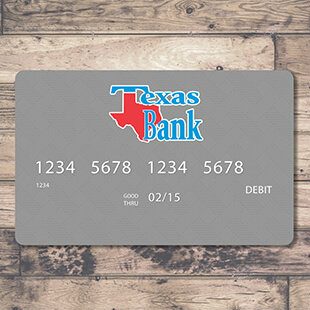 Summary
Earn Extra Awards with every purchase
Free with any Texas Bank business checking account
Get cash at any ATM
Safer than carrying cash
More widely accepted than checks
Make purchases in stores and online anywhere Visa is accepted
Instant issue cards available
Branded debit cards available
Easily replaced if lost or stolen
Verified by Visa available
Enjoy Increased Security
Rest assured your account is protected. Texas Bank monitors your ATM and debit card transactions for potentially fraudulent activity.
Review our Security Tips to learn how you can protect yourself from fraud and identity theft.
Card Fraud Center
In our continuing efforts to keep your accounts secure we have partnered with Card Fraud Center which is designed to help monitor cards and alert our customers to potential card fraud.
Here's how Card Fraud Center works:
When potential fraud is detected, you will receive an automatic text alert message, with the option to respond and confirm "fraud" or "no fraud".
If no response five minutes after the text message, you will receive an automatic email notification, which also has the option to respond and confirm "fraud" or "no fraud".
If there is no response received, you will then receive automatic (recorded) phone calls to confirm or deny fraud. If fraud is confirmed or if there is a failure to authenticate your identity, you will be connected to a fraud analyst.
Remember - our messages will never ask for your PIN or account number.
MyCardRules
Texas Bank has partnered with MyCardRules which allows our customers to use their card on their terms. Some of the features of MyCardRules are:
Turn your debit card on and off
Establish transaction controls for dollar amount limits, merchant categories and geographic locations
Receive alerts when your debit card is used, approved or exceeds the transaction controls set by you
Stay informed of potential fraud with alerts on attempted, declined transactions
MyCardRules is the mobile app that lets you control debit card usage and spending on the go! Download the app today!
Control Spending: If you're trying to establish or stick to a budget, MyCardRules can help. Set spending limits for general use or specify thresholds by merchant types, such as gas, groceries or retail stores. You can also establish these controls by location. The flexible app lets you change these parameters anytime with ease via your mobile device. Going on vacation? Holiday shopping? Simply update your transaction controls to fit your spending needs.
Fraud Protection: A lost or stolen card is just one area of concern in today's world where Identity theft, skimming and other attacks are an unfortunate reality. Turning your debit card off when you're not using it helps safeguard against fraud. When your card is "off," no withdrawals or purchases will be approved. Transaction controls that allow your debit card to work only in specific locations or geographic areas, add another layer of protection. And real-time alerts keep you informed when your card is used or declined.
Business Use: MyCardRules is a great tool for controlling business spending on a debit card. Use the transaction controls for merchant codes, location and thresholds to ensure employee spending adheres to your company policies.
Review Debit Card Transactions: Monitor your finances from anywhere. Use the MyCardRules app to check your Debit Card Transactions.
Surcharge-Free ATMs
Texas Bank has joined Allpoint Network, which means Texas Bank customers now have access to America's largest surcharge-free ATM network, with some 55,000 surcharge-free ATMs worldwide.
In addition to Texas Bank's branch locations and ATMs, with Allpoint Network, Texas Bank customer will never be far away from surcharge-free ATM access to their cash, especially in the United States where Allpoint offers 43,000 cash machines in places they're already visiting as part of their daily routine. Conveniently located in destination retail outlets including major discount retailers, convenience, grocery and pharmacy stores, Allpoint Network ATMs save customers of Texas Bank time as well as ATM fees.

How to find Allpoint Network
Texas Bank customers looking for the nearest surcharge-free Allpoint ATM—including 12,000 locations in Canada, Mexico, Puerto Rico, the United Kingdom, Australia—can do so with their smartphone using the free Allpoint Network ATM locator app. And once at the store hosting an Allpoint ATM, look for the green Allpoint logo.
Allpoint Network resources:
About Allpoint
Allpoint Network is the largest surcharge-free ATM network with more than 55,000 ATMs in leading national and regional merchant locations across the United States, Canada, Mexico, United Kingdom and Australia. Allpoint provides greater access, convenience and savings to customers of financial institutions while providing institutions the tools to compete more effectively for customers. For more information or to find the nearest Allpoint surcharge-free ATM, please visit www.AllpointNetwork.com, like us on Facebook and follow @Allpoint on Twitter. Allpoint Network is a wholly-owned subsidiary of Cardtronics, Inc. (NASDAQ: CATM).
Extra Awards
Earn rewards just by using your Texas Bank Visa debit card! Extra Awards points are awarded when you make purchases with your Texas Bank Visa debit card as "credit" at the Point of Sale. Redeem points for all kinds of rewards including cash, airfare, merchandise, and more!
Read the Extra Awards FAQ to learn more about the program. Check point totals, view merchandise, or sign up for the program at my.extraawards.com.
How does the program work?
You earn 1 point for every $2 you spend as a "credit" transaction at the Point of Sale. Points can be redeemed for all kinds of rewards, including cash, airfare, merchandise, and more! The website keeps track of all points earned and will help you find what you are looking for when you get ready to redeem.
NOTE: you must select credit and sign for your purchases to earn points. Bill Payment transactions are not included in point accumulation.
When can I redeem Extra Awards points?
Points are awarded daily once the eligible debit card transaction has posted to your account. You can redeem Extra Awards points after you have accumulated enough points for the reward you want. If points are not redeemed within 3 years, they will expire and cannot be used. New points will continue to accumulate.
Can I share points with family members?
Points are accumulated for each card on an account. Each cardholder can only redeem points earned with their card.
How much does it cost to participate?
There's no cost. Membership in Extra Awards is absolutely free for Texas Bank cardholders, so start using your card and earning points today.